2001/2002
Premio Valcellina, Concorso Nazionale d'Arte Tessile, 3^ edizione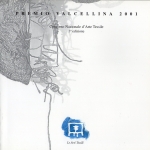 Concorso rivolto a tutti i giovani artisti tessili di età inferiore ai 35 anni, residenti in Italia
Valcellina Award, National Textile Art Competition, 3rd edition
Competition open to all young fiber artists resident in Italy and under 35 years of age
---
Chiusura del bando 30 ottobre 2001
Artisti 54 partecipanti, 29 selezionati ammessi al concorso
Inaugurazione e cerimonia di premiazione 19 gennaio 2002, Ex-Filanda, Maniago PN
Durata dell'esposizione dal 20 gennaio al 24 febbraio 2002
Mostra collaterale
Incontri Tessili con opere di giovani artisti del Textilabteilung Universität Paderborn [Scuola di Arti applicate] Josefa Vydru, Bratislava, Slovacchia
Deadline for participation 30 October 2001
Artists 54 participants, 29 selected and admitted to the competition
Inauguration and award cermony 19 January 2002, Ex-Filanda (Ex-Spinning mill), Maniago PN
Exposition period from 20th January to 24 February 2002
Collateral exhibition
Incontri Tessili (Textile Encounters) with works by students attending the Textilabteilung Universität Paderborn (Textile Departments of the University of Paderborn), Paderborn, Germany and the Škola Umeleckého (School of Applied Arts) Josefa Vydru, Bratislava, Slovakia
---
Giuria / Jury
Renate Maak – Artista tessile e Direttrice del Simposio Internazionale di Graz, Austria / Textile artist & Director International Simposium Graz, Austria
Sergio R. Molesi – Critico d'arte / Art critic
Paolo Olivari – Architetto e giornalista esperto di design / Architect & Design Journalist
Lydia Predominato – Artista tessile / Textile artist
Nane Zavagno – Scultore / Sculptor
---
Artisti selezionati, opere e premi assegnati
Selected artists, works and prizes awarded
PRIMO PREMIO / FIRST PRIZE
Lucia Pagliuca Prorompe il grido / Here bursts out the cry
SECONDO PREMIO / SECOND PRIZE
Alessandra Ruo Batavia / Batavia
TERZO PREMIO / THIRD PRIZE
Giuseppe Scala Tornido / Tornido
PREMIO SPECIALE / SPECIAL PRIZE FRIULI VENEZIA GIULIA
Barbara Girardi Pelle 01 / Skin 01
MENZIONE SPECIALE / SPECIAL MENTION
Isabel Fernando Blanco Calore umano / Human warmth
Caterina Morelli Storia d'amore in camera da letto: A / Love story in a bedroom: A
Tomoko Kidata Silenziosa costrizione / Silent restraint
Andrea Recchia Gabbia per esfoliazione tessile / Cage for textile exfoliation
Misoon Yeon Offerte / Offerts
—
Annamaria Atturo Senza titolo / Untitled
Rosita Basta Senza titolo / Untitled
Alessandro Caioni Senza titolo / Untitled
Chen Kuang Chin Cellula / Cell
Kyoko Ishii La composizione / The composition
Chiara Lampugnani Les papillons collection [La collezzione di farfalle] / Les papillons [The butterflies] collection
Marco Lanfredi Lume di follia / Glimpse of madness
Paolo Longari Magma / Magma
Federica Luzzi Guscio nero n. 2 / Black shell No. 2
Emanuele Marconi Senza titolo / Untitled
Elisa Mattiola Abito aquilone / Kite dress
Francesca Messina Scatola tattile / Tactile box
Raffaella Norcini Pala Senza titolo / Untitled
Nadia Odorico Pelle / Skin
Valentina Ottone Oggetti volanti – percorsi aerei / Flying objects – air paths
Martina Pagnanini Giraffe: reperto n. 1 / Giraffes: finding No.1
Francesca Paolin Essenza del busto / Essence of the corset
Valentina Pisu Dispositivo tessile in sospensione / Suspended textile device
Doriana Roscioli Aracne / Aracne
Lucia Vedovi Hekla [Ecla] / Hekla
---
Saggio critico / Critical essay
Riconoscimento e promozione della creatività dei giovani, vittoriosa rivendicazione della dignità estetica dell'Arte Tessile, contestualità e globalità, tradizione ed innovazione in tre prestigiose edizioni del Premio Valcellina di Sergio Molesi, giuria Premio Valcellina 3^ edizione
Il Concorso Nazionale d'Arte Tessile Premio Valcellina, promosso ed organizzato da Le Arti Tessili Centro di Attività Culturali, Studi, Informazione, in collaborazione col Comune di Maniago, è arrivato felicemente alla sua terza edizione.
L'importante manifestazione, a quanto risulta unica nel suo genere in Italia, ha perlomeno due rilevanti motivi per essere ritenuta un evento di primissimo piano nel campo dell'arte. E tali motivi vengono doverosamente e volentieri esplicitati da chi scrive, vista la simpatica consuetudine di inserire, nel catalogo della mostra dei lavori premiati, segnalati e ritenuti meritevoli di essere esposti, uno scritto del critico d'arte di volta in volta presente nella giuria del concorso stesso.
Il Premio Valcellina ha il merito di riconoscere e promuovere la creatività artistica dei giovani e di rivendicare una dignità estetica adeguata all'arte tessile, erroneamente ritenuta, anche in un passato recente, "arte minore" (peraltro in buona compagnia con altre e consimili discipline artistiche, anche insegnate negli Istituti d'Arte) a fronte delle cosiddette "arti maggiori" quali, poniamo, l'architettura, la scultura e la pittura. L'equivoco, peraltro in fase di definitivo superamento, nasceva dall'artificiosa contrapposizione tra l'aspetto "pratico" e l'aspetto "poetico" del realizzare prodotti riconducibili all'immagine e alla sua fruizione. In realtà le valenze funzionali, rappresentative, narrative e simboliche possono essere egualmente presenti in un'opera tessile e in un'opera, poniamo, di pittura. Ciò che fa la differenza, nell'uno come nell'altro caso, è il quoziente di creatività e di espressività e perciò, in ultima analisi, di "poetica'' del prodotto. Tutto ciò i giovani l'hanno capito benissimo e, per fortuna senza alcun complesso d'inferiorità, si cimentano nell'arte del tessile con l'assoluta e naturale sicurezza di chi sa di produrre immagini (funzionali, narrative, rappresentative, simboliche o aniconiche che siano) che saranno considerate unicamente per i valori creativi ed espressivi di cui sono portatrici. E si può anche tranquillamente affermare che l'arte tessile (oggi qualificata a livello internazionale con la denominazione di Fiber Art), nel suo quasi alchemico coinvolgimento nella polimorficità della materia e nell'estrema varietà dei modi operativi, offre un ventaglio di possibilità creative ed espressive molto ricco ed articolato.
Nelle opere premiate, segnalate e presenti nelle tre edizioni del Premio Valcellina vengono usati materiali tradizionali collegati alla manipolazione della natura e materiali innovativi derivati dall'artificio della produzione tecnologica, vengono messi in atto procedimenti operativi propri della tessitura ed altri rispetto ad essa eterodossi, viene praticata la manualità plastica, viene esercitata la prassi compositiva e cromatica e persino perseguita la dimensione spaziale.
E' evidente che il fiber artist, per definizione impegnato in modi operativi fortemente connessi al fascino che esercita la materia, opera con la sensibilità cromatica del pittore, con quella plastica dello scultore e con quella spaziale dell'architetto a fornire un prodotto di articolata e totalizzante (olistica) valenza creativa ed espressiva. Altro che "arti maggiori" e "arti minori"! Ma c'è: di più. I giovani fiber artists che hanno vittoriosamente animato queste tre edizioni del Premio Valcellina non si sono peritati di cimentarsi con i linguaggi dell'arte contemporanea, da quelli delle avanguardie storiche fino agli esiti concettuali dell'installazione, sia sul versante rappresentativo e simbolico sia su quello allusivo e aniconico, dando spazio, di volta in volta, alle esigenze dell'intelletto e alle pulsioni della sensibilità, alla conoscenza della mente ed alla sapienza del cuore, nel positivo muoversi tra progetto e destino.
Da ultimo c'è da dire che il Premio Valcellina è sorto nella zona pedemontana pordenonese che ha registrato in passato la presenza di una qualificata tradizione tessile. E' proprio per mantenere viva la memoria di tale operoso passato e per stimolarne la rinascita, la moderna creatività dei giovani fiber artists viene ospitata nell'antico edificio della filanda, ristrutturato come prestigiosa sede espositiva. E' questo un modo di perseguire la globalizzazione senza correre pericolo dell'omologazione, di rimanere inseriti nel contesto evitando il rischio della marginalizzazione, di legare vittoriosamente tradizione ed innovazione nella tensione a costruire un mondo migliore e a rendere possibile una vita più degna di essere vissuta.
Trieste, Bar Mauro, 18 Dicembre 2001, luna crescente
Appreciation and promotion of young textile artists, creativity, victorious claim of textile art's dignity, contextuality and globality, tradition and innovation in three fascinating editions of Premio Valcellina by Sergio Molesi, jury member of Valcellina Award 3rd edition
The Valcellina Award – the National Textile Art Competition, promoted by Le Arti Tessili, an Association of Cultural Activities, Textile Studies, and Information, in cooperation with the Town of Maniago, has happily reachedits third edition.
This important event, unique in Italy, has at least two relevant reasons to be considered as a session of paramount importance in the field of art. These reasons will be duly and willingly dealt with by me since there is the pleasant habit to include in the exhibition catalog a text written by the art critic present in each competition jury.
The Valcellina Award has the merit to appreciate and promote young textile artists, creativity, and claim an adequate aesthetic dignity for Textile Art. This artistic sector has been erroneously considered as a "minor art" (as it happens to other similar disciplines also taught in arts schools) when compared with the so-called "major arts" like architecture, sculpture and painting.
This misunderstanding, being, however, overcome, originated from the artful contraposition of the "practical" and "poetical" aspect of products referring to image and its fruition. In fact, functional, representational, narrative, and symbolic values can be equally present in a textile work or, let's say, in a picture. What makes the diflerence in both cases is the creativity, expression, and, in the last analysis, "poeticity" quota of the product.
The young artists have perfectly understood all this and, thankfully without any inferiority complex, make Textile Art with an absolute and natural self-confidence knowing that what they produce (being it functional, narrative, representational, symbolic and so forth) will be considered only for the creative and expressive values their work contains. We can easily say that Textile Art (today connotated as Fiber Art at an international level), in its almost alchemic participation in matter polymorphism and extreme variety of operational approaches, ojfers a highly rich and diversified range of creative and expressive possibilities.
The prized and selected oeuvres present in the three editions of Valcellina Award are made both from traditional materials deriving from the manipulation of Nature, and innovative matters coming from the technological production. At the same time, we may find operational procedures pertaing to weaving and other completely diflerent techniques. A plastic approach is also present, a compositive and chromatic praxis is followed, and the spatial dimension is also pursued.
It is clear that the fiber artist – by definition engrossed in operational procedures strictly connected with the charm exerted by matter – works with the painter's sensitivity, the sculptor's plastic ability, and the architects spatial concept so as to form a product of an articulated and holistic, creative, and expressive value.
No longer "minor" and "major"arts! However, there is still something else. The young fiber artists who have victoriously animated these three editions of Valcellina Award have not refrained from venturing upon contemporary art's idioms ranging from those typical of the historical avantgarde up to the concep tual achievements of the installation both in the representational and symbolic, allusive and aniconic dimension. From time to time, they have given space to intellecutal exigencies and sensitive pulsations, to mind 's knowledge and heart's wisdom, in a positive progression between project and fate.
Finally, we must note that Valcellina Award has its seat in the Pordenone hill area where in the past there was a qualified textile tradition. It is with the intention of keeping alive the memories of this industrious past and stimulating the re-birth ofa modern creativity by young fiber artists that the Award exhibition is hosted in the refurbished ancient building of Maniago spinning mill.
This is a way to meet globalization without the danger of homologation, to stay in the context avoiding the risk of marginalization, to winningly bind tradition with innovation in an attempt to build a better world, and enhance a life worth being lived.
Bar Mauro, Trieste,18 December 2001, waxing moon