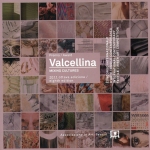 2011-2012
Premio Valcellina, Concorso Internazionale d'Arte Tessile Contemporanea, 8^ edizione – Mixing cultures
Concorso aperto a tutti i giovani artisti tessili fino al compimento del 35° anno di età, nati dal dal 1 gennaio 1976
Valcellina Award, International Contemporary Textile/Fiber Art Competition, 8th edition – Mixing cultures
Competition open to all young fiber artists under 35 years of age, born from 1st January 1976
---
Tema Mixing Cultures – Intreccio e dialogo tra culture
Chiusura del bando 30 novembre 2011
Artisti 81 partecipanti, 24 selezionati ammessi al concorso
Inaugurazione e cerimonia di premiazione 14 aprile 2012, Museo dell'Arte Fabbrile e delle Coltellerie, Maniago PN
Durata dell'esposizione dal 15 aprile al 13 maggio 2012
Eventi promozionali
Dal 2 al 4 dicembre 2011, in occasione dell'evento Porte aperte…aspettando il Premio Valcellina 8^ edizione, è stata presentata una sezione di opere della Valcellina Collection, Sede Associazione Le Arti Tessili, Maniago
Dal 26 gennaio al 24 marzo 2012, in occasione della mostra Il design che avanza, è stata presentata una sezione di opere della Valcellina Collection e si è tenuta una conversazione con Justin Randolph Thompson, artista, Andrea Bruciati, storico dell'arte e Gina Morandini, direttore artistico Premio Valcellina, Cumini Gallery [Galleria Cumini], Gemona UD
Mostre collaterali
Calpesta la Guerra, progetto dell'Associazione CooperAction Onlus, Roma, Sala Liberamente, Maniago
The first book of Africa [Il primo libro dell'Africa], opere e performance dell'artista Justin Randolph Thompson, ex-scuderie di Palazzo d'Attimis Maniago, Maniago
Partner Shools [Scuole Partner], opere/video/performances degli studenti: Ment-al-mente di Simona Paladino, Ritmo collettivo di Tiziana Abretti e Barbara Matera, Accademia di Belle Arti, Bologna, Pure infiltration [Infiltrazione pura], Osmosys [Osmosi ]e Nerve net [Rete nervosa] di Simone Bruno, Accademia d'Alta Moda Koefia, Roma,Tessuti stampati degli allievi di AFOL Moda, Milano, Sede Associazione Le Arti Tessili, Maniago
Urban Textile [Tessile urbano], installazione urbana per le vie di Maniago
Eventi collaterali
Valcellina Party [Festa Valcellina], etno buffet e dj set curato da Circolo Arci Hybrida, Associazione Le Arti Tessili, Maniago
Valcellina Talks [Valcellina Conversazioni], incontri con gli artisti selezionati e performance sonora di Justin Randolph Thompson, Museo dell'Arte Fabbrile e delle Coltellerie, Maniago
Inside Kabul, documentario di Edoardo e Danilo Marino in collaborazione con CooperAction Onlus, Roma, Sala Liberamente, Maniago
Valcellina Lab: Knit Café con Aurelie Chadaine, Batik e Tie & Die con Jacqueline Ennin e Sartoria – Un abito del Burkinabé con Salam Billa, Sede Associazione Le Arti Tessili, Maniago
Eventi successivi
Dal 15 settembre al 29 ottobre 2012, la mostra Premio Valcellina 8^ edizione Mixing Cultures è stata esposta nel corso dell'evento Industriare Arte Giovani promosso dalla sezione ttività culturali di Confindustria Udine, Sala Multiseum di Città Fiera, Torreano di Martignacco UD
Dal 24 novembre 2012 al 6 gennaio 2013, la mostra Premio Valcellina 8^ edizione Mixing Cultures è stata esposta grazie al coordinamento di Angelo Grassi e Vanna Romualdi, presso il Centro Espositivo Fabbrica, Gambettola FC
Theme Mixing cultures – Intertwining and dialogue between cultures
Deadline for participation 30 November 2011
Artists 81 participants, 24 selected and admitted to the competition
Inauguration and award cermony 14 April 2012, Museo dell'Arte Fabbrile e delle Coltellerie (Museum of Smithery Art and Cutlery), Maniago PN
Exposition period from 15th April to 13th May 2012
Promotional events
From December 2nd to December 4th 2011, on the occasion of the event Porte aperte…aspettando il Premio Valcellina 8^ edizione (Open doors … waiting for the Valcellina Award 8th edition), a section of Valcellina Collection was presented, Le Arti Tessili Association headquarter, Maniago
From January 26th to March 24th 2012, on the occasion of the exhibition Il Design che avanza (Design moving forward), a section of works by Valcellina Collection was presented and a conversation was held with Justin Randolph Thompson, artist, Andrea Bruciati, art historian and Gina Morandini, art director of the Valcellina Award, Cumini Gallery, Gemona UD
Collateral exhibitions
Calpesta la Guerra (Step on war), a project by the Association CooperAction Onlus, Rome, Sala Liberamente (Liberamente Hall), Maniago
The first book of Africa, works and performance by the artist Justin Randolph Thompson, ex-stables of Palazzo d'Attimis Maniago (d'Attimis Maniago Palace), Maniago
Partner Shools, works/video/performances by students: Ment-al-mente (Mentally) by Simona Paladino, Ritmo collettivo (Collective rhythm) by Tiziana Abretti and Barbara Matera, Accademia di Belle Arti (Academy of Fine Arts), Bologna, Pure infiltration and Osmosys (Osmosis) and Nerve net by Simone Bruno, Accademia d'Alta Moda Koefia (High Fashion Academy Koefia), Rome,Tessuti stampati (Printed fabrics) by students of AFOL Moda (AFOL Fashion), Milano, Le Arti Tessili Association headquarter, Maniago
Urban Textile, urban installation on the streets of Maniago
Collateral events
Valcellina Party, etno buffet & dj set by Circolo Arci Hybrida (Social Club Arci Hybrida), Le Arti Tessili Association headquarter, Maniago
Valcellina Talks, encounter with the selected artists and sound performance by Justin Randolph Thompson, Museo dell'Arte Fabbrile e delle Coltellerie, Maniago
Inside Kabul, documentary by Edoardo and Danilo Marino in collaboration with CooperAction Onlus, Rome, Sala Liberamente, Maniago
Valcellina Lab: Knit Café with Aurelie Chadaine, Batik e Tie & Die with Jacqueline Ennin and Sartoria – Un abito del Burkinabé (Tailoring – A Burkinabé suit) with Salam Billa, Sede Le Arti Tessili Association headquarter, Maniago
Subsequent events
From September 15th to October 29th 2012, the exhibition Valcellina Award 8^ edition Mixing Cultures was displayed at the event Industriare Arte Giovani (Industrialize Young Art) promoted by the cultural activity section of Confindustria Udine, Sala Multiseum (Multiseum Hall) of Città Fiera, Torreano di Martignacco UD
From November 24th 2012 to January 6th 2013, the exhibition Valcellina Award 8^ edition Mixing Cultures was displayed tanks to the coordination of Angelo Grassi and Vanna Romualdi, at the Centro Espositivo Fabbrica (Fabbrica Exhibition Center), Gambettola FC
---
Giuria / Jury
Andrea Bruciati – Storico dell'arte e curatore / Art historian and curator
Anna Galtarossa – Artista / Artist
Daniel Gonzalez – Artista / Artist
Renata Pompas – Direttore del corso Digital Textile Design, AFOL Moda, giornalista, saggista / Digital Textile Design Course director, AFOL Moda, journalist, essayist
Lydia Predominato – Fiber artista, ideatrice e curatrice di mostre di Fiber Art / Fiber artist, fiber art event maker and curator
---
Artisti selezionati, opere e premi assegnati
Selected artists, works and prizes awarded
PRIMO PREMIO / FIRST PRIZE
Kirstie Macleod (Regno Unito / United Kingdom) Barocco / Barocco
SECONDO PREMIO / SECOND PRIZE
Zane Kokina (Lettonia / Latvia) Da Zabriskie point di M. Antonioni o Ben dentro le dune / After M. Antonioni Zabriskie point or Long way into the dunes
TERZO PREMIO / THIRD PRIZE
Allison Lynn (Regno Unito / United Kingdom) 8 Febbraio: Hari Kuyo / 8th February: Hari Kuyo
PREMIO CALIMALA/ CALIMALA PRIZE
Milena Gabrijelcic (Italia / Italy) Maniafesto "La pelle dei muri" / "The walls skin" Maniafesto
MENZIONE SPECIALE / SPECIAL MENTION
Regina Degiorgis Jimenez (Spagna / Spain) Oltre le nostre teste, siamo guide / Beyond our heads, we are leaders
Mariko Kobayashi (Giappone / Japan) Il dio della volpe / God of fox
Santanu Das (India / India) Una stretta striscia di mente / A narrow stripe of mind
—
Yasin Bayrak (Turchia / Turkey) Memoria / Memory
Alisia Cruciani (Italia / Italy) 23 pietre letterate / 23 lettered stones
Claudia Attili (Italia / Italy) Sulle terre d'ombra / On shadowy grounds
Livia Ugolini (Italia / Italy) Passa parola / Word of mouth
Ruta Naujalyte (Lituania / Lithuania) 03/09/1981 / 03/09/1981
Deepa Panchamia (Regno Unito / United Kingdom) Simbiosi / Symbiosis
Miyuky Tatsumi (Giappone / Japan) Al di là della veneziana / The other side of the blind
Lucia Travnik (Ungheria / Hungary) Rituale / Ritual
Marloes Jongen (Olanda / Holland) Ali / Wings
Federica Burzi (Italia / Italy) Chroma [Scala cromatica] / Chroma
Noriko Tomita (Giappone / Japan) Crogiuolo / The melting pot
Sayaka Miyata (Giappone / Japan) V-e-r-d-u-r-e / V-e-g-e-t-a-b-l-e-s
Krisztina Vigh (Ungheria / Hungary) Selezione naturale / Natural selection
Ming-Dao University Group (Taiwan / Taiwan) Yon-Chi Liu, Siou-Hua Peng, Yong-Ru Jhan, Jhe-Gang Wu, Yu-Syuan Wang e Yi-Ru Shih
Adorazione alla luce / Light worship
Pei-Shan Wu (Taiwan R.D.C. / Taiwan R.O.C.) Album di famiglia / Family album
Chia-Shan Lee (Taiwan R.D.C. / Taiwan R.O.C.) Il mondo è tenuto assieme da un filo / The world is assembled by a thread
Ya-Chu Kang (Taiwan R.D.C. / Taiwan R.O.C.) / Christian Nicolay (Canada / Canada) Conversazioni intime / Pillow talk
---
Saggio critico / Critical essay

Descrivo il modo e nel frattempo procedo lungo la via di Andrea Bruciati, Storico dell'arte e curatore, giuria Premio Valcellina 8^ edizione
Se dovessimo dare ascolto alla nostra percezione di uomini occidentali, il corso del tempo avrebbe una sola direzione, quasi evoluzionistica, mutuata da una concezione progressiva della Storia di hegeliana memoria: secondo il credo modernista vi è infatti avanzamento della società grazie all'accumulo in avanti degli accadimenti ma, come comprova la stessa fisica meccanica, esiste in realtà un margine di reversibilità.
Venendo alla elaborazione artistica, non più opere autoreferenziali o immobili da se stesse ma lavori precari allora, che nel loro essere 'deboli', molli e destrutturati, accolgono la relazione con l'altro e la relatività del loro stesso essere. Nell'esegesi dell'opera, questo comporta sempre un'azione retroattiva nello spettatore per cui ciascuna espressione artistica introduce nuovi assestamenti e ulteriori significati in base anche al contesto in cui viene mutuata, proprio come la trama di un canovaccio che si modella su un volume o la fabbricazione ultima di un tessuto a maglie larghe. Forse il procedere operativo medesimo di chi affronta l'arte tessile, può essere accostato alla meta-narrazione di Lyotard, al lento indulgere della struttura nel suo formarsi, ad una visione pertanto plurale del tempo propria della condizione postmoderna. Al contrario di quello che affermava Hegel, l'arte non perde per questo di significatività, ma anzi guadagna in libertà, aprendosi a forme espressive inedite di straordinario valore antropologico.
Secondo questa prospettiva l'interesse si sofferma soprattutto verso l'opera di tre autrici che, modellando il tempo in funzione dello spazio, riflettono in maniera autorevole e sensuale sulla modernità della forma, che si declina in installazione. Nuove perché ataviche, esse tracciano percorsi vivificanti per una riflessione inesausta dell'operare la materia. Attente nel formulare una voce narrante, frutto di abilità certosina e solide base concettuali, le tre autrici non si sono soffermate alla perizia tecnica ma l'hanno evoluta in forma d'arte galvanica, ad alta densità emotiva.
Così per Kirstie Macleod (UK, 1981), che in Barocco performa l'atto del cucire all'interno di un cubo trasparente: come un bulbo, una materia che implode generosamente, il tessuto broccato aumenta di volume e si arricchisce mano a mano. Implementandosi bulimicamente di forme decorative provenienti dalle diverse tradizioni tessili del pianeta, la scultura vivente, ora posta su di un palcoscenico, risulta insieme tableau-vivant e organismo dalla debordante crescita, nucleo germinativo che si evolve all'infinito.
Sempre di decostruzione della materia si tratta se si analizza il lavoro di Krisztina Vigh (H, 1976), che in Natural Selection sfalda la superficie della tela attraverso tre sezioni che assecondano, senza soluzione di continuità, una sorta di paesaggio tridimensionale. Le figure al centro fuggono da legante ed elemento di sconnessione nel contempo, portando l'intera struttura al collasso nella parte estrema e finale che, completamente abbandonata al suo destino, liquidamente si deposita al suolo.
Sempre di narrazione, desunta però dalle suggestioni cinematografiche di Antonioni, si parla per Zane Kokina (LT, 1982), che in After M.Antonioni Zabriskie point or Long way into the dunes recupera la capacità discorsiva del cucire, secondo una sequenza filmica a diapositiva. Otto pannelli documentano lo story-board di una sceneggiatura dimenticata, connotandosi quali quadri abrasi, dove le nuance del colore e le cancellature indotte dalle cuciture si sfilacciano in lande desertiche e distese lunari, liminari all'anima solipsistica dell'individuo moderno.
I describe the way and meanwhile I am proceeding along it by Andrea Bruciati, Art historian and curator, jury member of Valcellina Award 8th edition
If we should rely on our perception typical of western individuals, the course of time would have only one direction. I would say, an almost evolutionary one that has derived from a progressive concept of History of Hegelian memory: according to the modernistic creed, there is, in fact, an advancement in society thanks to the accumulated progression of events. However, as mechanic physics proves, there is actually a margin of reversibility. When we come to artistic creation, we do not have self-referential or motionless works any longer but precarious ones which, in their being "weak", limp and dismantled, accept interaction with other entities, acknowledging the relativity of their being. When interpreting an art work, the visitor carries out a retrospective action. In this way, each artistic expression introduces new assessments and further significances considering the context which is enjoyed.
We can make a comparison with a project that is modeled on a pre-set volume, or the final realization of a loose-knit fabric. Maybe the operational process of the textile technique itself can be matched with Lyotard's metanarration, the slow lingering of the structure while getting formed, in this way accepting a plural vision of time that is typical of the postmodern condition.
Contrary to what Hegel affirmed, art does not lose power of significance in this connection, instead it gains in terms of freedom getting in contact with uncommon expressive forms of anthropological value. Seen from this angle, our interest goes with a preference towards the works of three woman artists who, while modeling time according to space, authoritatively and sensually reflect on form modernity that becomes an installation. The three artists offer a narrating motif, thanks to their painstaking ability and solid conceptual bases.
They have gone beyond their technical ability and have produced forms of galvanic art, of a high emotional level.
We will cite Kirstie MacLeod (UK, 1981) who with her work Barocco makes a performance sewing while sitting inside a transparent cube: like a bulb, that is a matter that generously implodes, her brocade increases in volume, and gets richer and richer. Bulimically enriched with decorative forms coming from the different textile traditions of our planet, her living sculpture, positioned on a scene, is both a tableau vivant and an overflowing organism, i.e., a germinative infinitely evolving nucleus.
Krisztina Vigh (Hungary, 1976)'s work also belongs to the field of deconstruction. In her work Natural Selection she divides the surface of her work into three sections that show a continued sort of three-dimensional landscape. The figures in the center try to escape from a binding and at the same time disconnecting element leading the entire structure to collapse in its extreme and final part that, completely abandoned, comes down to the ground in a liquid –resembling manner.
Zane Kokina (Lithuania, 1982)'s inspiration goes back to Antonioni's film suggestions. Her work After M. Antonioni Zabriskie point or Long way into the dunes uses the sewing technique to narrate according to a film sequence in the form of slides.. Eight panels document the story-board of a forgotten scenario, appearing as erased pictures where color hues and the erasing caused by the sewing fray to become desert lands and moon surfaces, i.e., the limit areas of the modern individual's solipsistic soul.
[/fusion_builder_column][/fusion_builder_row][/fusion_builder_container]